Winding Stair Nursery enjoys establishing long-lasting relationships with landscapers and garden designers/contractors in our local area, including Franklin, Sylva, Highlands, Cashiers, and more.  With completion of a one-page credit application form, you can get access to fantastic landscaper discounts, as well as the following:
Access to weekly updated availability lists, including highlighted plants that are sure to please.
Promotion of your services on social media, newsletter and websites. Increase your visibility by sending us before and after photos of your installations for our "Garden Inspiration" web page
45-day payment terms
Site delivery, subject to order size and schedule
Online plant request form
Plant recommendations and advice
Sign up to join our landscaper mailing list:
Weekly Availability List:
Coming soon, we will  have a secure login area where you can view the weekly updated availability list.  You can download and view our sample list as a PDF or Excel Sheet.
Call to ask about exact quantities, condition and other issues that will help you determine which plants will work best for your project or complete our plant hold form to request plants.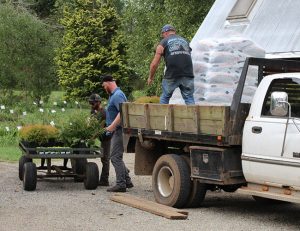 As well as the items listed on the availability, we also have:
Dry goods (see standard list below), annuals, edibles (herbs, etc), house plants and more.  Please call or contact us for specific requests. Our dry goods selection, typically includes but is not limited to:
Selection of Tomato, Tree, Holly, Plant, Rose, Bulb Tone bags in various sizes.
Black Kow cow manure
Daddy Pete's bagged products including: Mushroom Compost, Cow Manure, Hardwood Mulch, Kickin Chickin, Lawn & Garden, Nursery Blend, Perennial Pleaser, Planting Mix, Soil Enhancer, SeaNfarm Potting Soil,
Happy Frog products, including all purpose, bat guano, fruit & flower, Japanese maple, etc
Selection of fungicides, pesticides, fertilizers, etc.
Bulk: Lawn and Garden Soil and Mulch